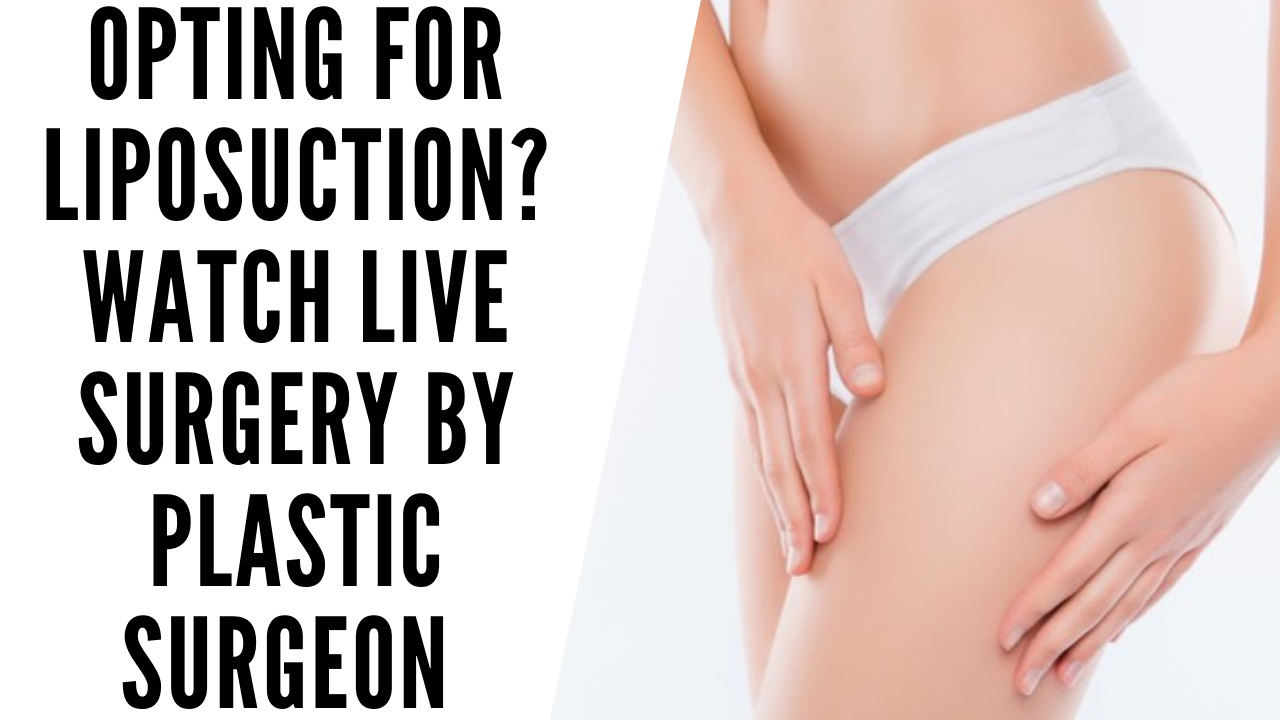 19 Jan

THINKING OR OPTING FOR LIPOSUCTION WATCH LIVE PROCEDURE OF THIGH LIPOSUCTION
Thigh Liposuction: Know More About Its Intended Purpose
You will be surprised to learn that with liposuction, excess thigh fat can be eliminated. This will have a better-proportioned outline for your legs and hips. The stubborn fat which can cause the thighs to rub against each other is one of the most common concerns. Chafing can easily result from this fat, which makes exercise unpleasant. The solution to these problems for multiple individuals is thigh liposuction. The reaction of the thighs to the procedure is, luckily, stronger than some of the other areas of the body. In comparison to the three layers in the trunk and the back, this is because there are two layers of fat in the thighs. The majority of plastic surgeons consider the thighs an excellent place for liposuction.
Females are more involved in thigh liposuction in general than men. This is because the hormones trigger fat deposits across the thighs, buttocks, and pelvis in the female body. In their abdominal region, the excess fat is contained in men, not their thighs. It is important to understand that liposuction is not meant to be used as a weight-loss technique. Individuals who are at or very close to their right body weight see the best results. The people most eligible for this operation are in good physical health. Individuals with a compromised immune system, diabetes, or impaired blood circulation should avoid this procedure.
For people with ample elasticity in their thighs to contour well after the treatment, focused liposuction on the thighs is more successful. This will help to remove a loose or creepy look.
Depending on whether you want to concentrate on the outer, inner, frontal thighs, or a combination of these regions, there are distinct liposuction procedures available. Using a very similar process as with every other part of the body, leg liposuction is achieved. The priorities of a person are one of the main differences. The reduction of a much smaller target area is usually desired by patients concerned with the appearance of their thighs. In several situations, for optimum outcomes, this technique is combined with some form of non-surgical treatment. These types of treatments can provide benefits that cannot be accomplished with only liposuction alone, including cellulite reduction and skin tightening. We can discuss these possibilities during your consultation at our Plastic Surgery Clinic in Ahmedabad, Gujarat.
Want to learn about Hair Transplant Cost in Ahmedabad Click here
The Intended Purpose of Thigh Liposuction
Treatment of small deposits of fat is the main objective of leg liposuction. For the treatment of obesity or large quantities of fat or cellulite, liposuction is not successful. To enhance the contours of the body, the operation should be seen as an efficient way to remove areas of fat in a localized zone. The banana roll is referred to as one of the most popular areas of fullness. This is the portion of the upper posterior of the thigh under the buttock. Any operation that is conducted in this area must be conservative since it helps to protect the buttocks. Too much removal of fat can cause the buttocks to sag in this area. It is also important to understand that, as time passes, there is the opportunity for a touch-up operation. This is partly based on the individual's exercise schedule and diet. It is also important to understand that, as time passes, there is the opportunity for a touch-up operation. This is partly based on the individual's exercise schedule and diet.
Where to Get Plastic Surgery in Ahmedabad, Gujarat
It is necessary to consider the surgeon's expertise and training before contemplating some type of procedure. It's always a good idea to submit images of past patients before and after. This would make sure the future patient is satisfied with the surgeon's style and technique. Testimonials are also an excellent way to make sure that the liposuction surgeon is experienced.
Your first move is to set up an appointment with a trained plastic surgeon if you are considering thigh liposuction. At Rejuva Aesthetica Plastic Surgery in Ahmedabad, Gujarat, look no further than Dr. Arth Shah! Our team will be more than happy to help you decide whether thigh liposuction would work for you during a consultation. To book an appointment and get started today, contact our Plastic Surgery Clinic. We are looking forward to working together with you!
Contact Rejuva Aesthetica now on
Phone : (+91) 7436000990, 07926929299 or
Website: https://www.rejuvaaesthetica.com
Email: [email protected]
Facebook: https://bit.ly/2LIYJKu
Google Direction: https://goo.gl/maps/UtXMFVsX6LB2
Address: 102, Himalaya Emerald, Besides IOC Petrol Pump, Near Shivranjani Over Bridge, Jodhpur, Ahmedabad, Gujarat 380015
Make sure to subscribe to our channel, ask your questions below, and follow us on Instagram for live footage and behind the scene sneak peeks: https://www.facebook.com/Drarthshah/
#Thighliposuction #Liposuction #Fatremoval #Liposuctionsurgery